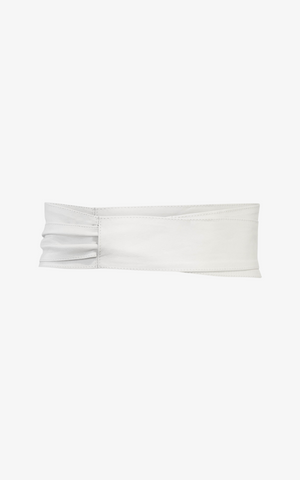 Serpent Belt
Size Guide
Size Chart
| | | | | | |
| --- | --- | --- | --- | --- | --- |
| International | Italian |  Shoulders | Chest | Waist | Hips |
| XS | 40 | 38 cm | 79-82 cm | 65-69 cm | 91-94 cm |
| S | 42 | 39 cm | 83-86 cm | 70-73 cm | 95-98 cm |
| M | 44 | 40 cm | 87-90 cm | 74-77 cm | 99-102 cm |
| L | 46 | 41 cm | 91-94 cm | 78-81 cm | 104-107 cm |
| XL | 48 | 42 cm | 95-98 cm | 78-81 cm | 104-107 cm |
Size Guide
Size Chart
| | | | | | |
| --- | --- | --- | --- | --- | --- |
| International | Italian |  Shoulders | Chest | Waist | Hips |
| XS | 40 | 38 cm | 79-82 cm | 65-69 cm | 91-94 cm |
| S | 42 | 39 cm | 83-86 cm | 70-73 cm | 95-98 cm |
| M | 44 | 40 cm | 87-90 cm | 74-77 cm | 99-102 cm |
| L | 46 | 41 cm | 91-94 cm | 78-81 cm | 104-107 cm |
| XL | 48 | 42 cm | 95-98 cm | 78-81 cm | 104-107 cm |
Here at Carolina's Couture, we have certain items that we believe work for every body type, style, and age.
This Italian leather belt is one of these items. Wear it at the waist with a dress, over a shirt, or use your imagination.
There are a million ways to style these, get yours to experiment with today!
235 cm long of pure Italian Leather, where only your imagination could stop you.
100% Italian Leather
Made in Italy