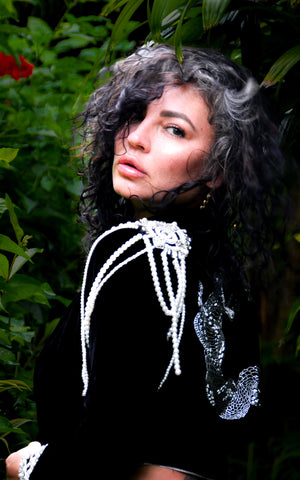 Revelation Royal Cape With Pearl Embellishments
Size Guide
Size Chart
| | | | | | |
| --- | --- | --- | --- | --- | --- |
| International | Italian |  Shoulders | Chest | Waist | Hips |
| XS | 40 | 38 cm | 79-82 cm | 65-69 cm | 91-94 cm |
| S | 42 | 39 cm | 83-86 cm | 70-73 cm | 95-98 cm |
| M | 44 | 40 cm | 87-90 cm | 74-77 cm | 99-102 cm |
| L | 46 | 41 cm | 91-94 cm | 78-81 cm | 104-107 cm |
| XL | 48 | 42 cm | 95-98 cm | 78-81 cm | 104-107 cm |
Size Guide
Size Chart
| | | | | | |
| --- | --- | --- | --- | --- | --- |
| International | Italian |  Shoulders | Chest | Waist | Hips |
| XS | 40 | 38 cm | 79-82 cm | 65-69 cm | 91-94 cm |
| S | 42 | 39 cm | 83-86 cm | 70-73 cm | 95-98 cm |
| M | 44 | 40 cm | 87-90 cm | 74-77 cm | 99-102 cm |
| L | 46 | 41 cm | 91-94 cm | 78-81 cm | 104-107 cm |
| XL | 48 | 42 cm | 95-98 cm | 78-81 cm | 104-107 cm |
Embodying royalty and designed to adorn its wearer in the finest luxuries, the Revelation Royal Cape was inspired by the natural strength and beauty of women and is a testament to quality and design above all else. Made out of a plush velvet and lined in a snake-decorated silky satin, this coat features a long and tailored silhouette, an exaggerated tuxedo lapel that closes along the front, long sleeves with pearl embellished cuffs, a zipper closure along the waist that separates the cape into a bomber jacket, and stunning pearl and metal embellishments along the shoulders.
80% Viscose, 20% Silk
Hand wash only or take to dry cleaner for best results.
Made in Italy