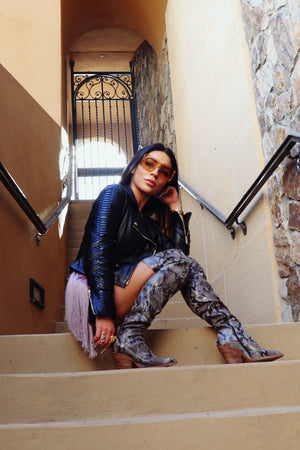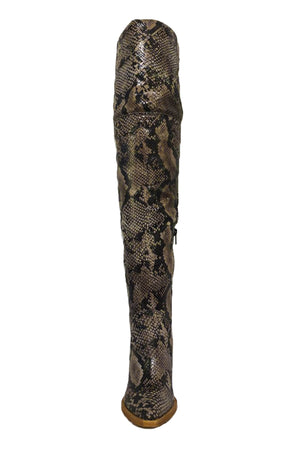 The Perfect Sin
Size Guide
Size Chart
| | | | | | |
| --- | --- | --- | --- | --- | --- |
| International | Italian |  Shoulders | Chest | Waist | Hips |
| XS | 40 | 38 cm | 79-82 cm | 65-69 cm | 91-94 cm |
| S | 42 | 39 cm | 83-86 cm | 70-73 cm | 95-98 cm |
| M | 44 | 40 cm | 87-90 cm | 74-77 cm | 99-102 cm |
| L | 46 | 41 cm | 91-94 cm | 78-81 cm | 104-107 cm |
| XL | 48 | 42 cm | 95-98 cm | 78-81 cm | 104-107 cm |
Size Guide
Size Chart
| | | | | | |
| --- | --- | --- | --- | --- | --- |
| International | Italian |  Shoulders | Chest | Waist | Hips |
| XS | 40 | 38 cm | 79-82 cm | 65-69 cm | 91-94 cm |
| S | 42 | 39 cm | 83-86 cm | 70-73 cm | 95-98 cm |
| M | 44 | 40 cm | 87-90 cm | 74-77 cm | 99-102 cm |
| L | 46 | 41 cm | 91-94 cm | 78-81 cm | 104-107 cm |
| XL | 48 | 42 cm | 95-98 cm | 78-81 cm | 104-107 cm |
This pair of printed snake Italian leather boots are simply breathtaking. Trust us when we say our over-the-knee boots are an exotic statement and it'd be a sin to not own them. Fold, Pinch down together or play with them however you want. They also have a side zipper.
Original Price: $649 now $349
100% Italian Leather
Dry clean only.
Made in Italy