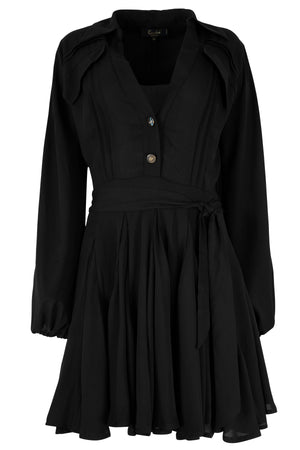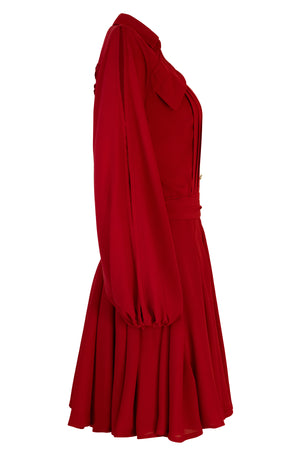 Matriarch
Size Guide
Size Chart
| | | | | | |
| --- | --- | --- | --- | --- | --- |
| International | Italian |  Shoulders | Chest | Waist | Hips |
| XS | 40 | 38 cm | 79-82 cm | 65-69 cm | 91-94 cm |
| S | 42 | 39 cm | 83-86 cm | 70-73 cm | 95-98 cm |
| M | 44 | 40 cm | 87-90 cm | 74-77 cm | 99-102 cm |
| L | 46 | 41 cm | 91-94 cm | 78-81 cm | 104-107 cm |
| XL | 48 | 42 cm | 95-98 cm | 78-81 cm | 104-107 cm |
Size Guide
Size Chart
| | | | | | |
| --- | --- | --- | --- | --- | --- |
| International | Italian |  Shoulders | Chest | Waist | Hips |
| XS | 40 | 38 cm | 79-82 cm | 65-69 cm | 91-94 cm |
| S | 42 | 39 cm | 83-86 cm | 70-73 cm | 95-98 cm |
| M | 44 | 40 cm | 87-90 cm | 74-77 cm | 99-102 cm |
| L | 46 | 41 cm | 91-94 cm | 78-81 cm | 104-107 cm |
| XL | 48 | 42 cm | 95-98 cm | 78-81 cm | 104-107 cm |
Billowing, beautiful, and reminiscent of a sultry romantic evening filled with hidden glances, secret kisses, and forbidden touches, this dress features a deep plunging neckline, gold button snap closures along front, an exaggerated collar, pocket detailing along the front, pleat detailing, a fitted waistband, a flared skirt with layering and pleats, and balloon sleeves with elastic wrist cuffs.
DETAILS
Garment runs small, please be advised and size up.
100% Polyamide
Made in Italy
Dry clean for best results.